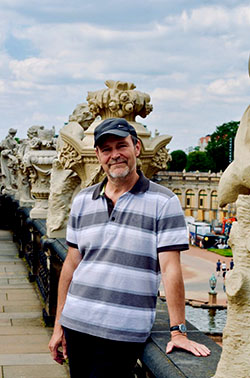 Welcome to Dresden!  As Your local guide, I offer tours of a high level, personally appealing, which will also respond to your wishes and questions. My name is Gerold Jahn, I am a freelance city and museum guide in Dresden and a founding member of the Dresden Tourist Guide Association. I love my job as a local guide and I take it seriously (but I won't rattle down dates). I am very happy to show guests the most important sights of the old town such as the Zwinger, the Theaterplatz with opera, picture gallery and court church … that's clear, everyone does that.
My strength is, I think, being able to respond to guests with their often very different previous knowledge. One is in Dresden for the first time, the other one knows "almost everything" as an inhabitant of Dresden … you will all feel in good hands! Promised.
I also show very inconspicuous, unknown traces (where the Green Vault was illegally "visited" at night, to name a current topic). And you will find out where all the names come from, "Dresden", "Saxony" and "Angelsachsen" (Anglo-Saxony), "Elbe" and and and.
I'm not only a guide of the city, but a licensed guide of some world famous museums, too. Let yourself be invited to explore the Green Vault with its secrets (I can also introduce you to the entire Residenzschloss with the Türckische Cammer, armory and parade rooms of August the Strong!). And then I show where you can relax from all the splendor by having a good coffee.
I can organize city tours from one hour (less is simply not possible) to five (maybe with a coffee break in between). And you won't feel the five hours that long … really!
Or how about experiencing the right bank of the Elbe on the tram in a completely unconventional way? A walk in the park is included, it leads to the "Lingnerschloß" with a summer garden and a fantastic view of Dresden and in the distance even to Bohemia. A visit to Pfunds Molkerei, the most beautiful milk shop in the world, is also included, then a short walk through the backyards of Neustadt (our "Bohéme quarter") … and we suddenly find ourselves in the Kunsthofpassage (five yards designed by students of art). Everything with interesting explanations, of course.
Are you curious? Come and discover "Florence on the Elbe" (another name to be explained…).